4 A.M.
4 A.M. is a full-length musical by Jonathan Dorf (book, based on his hit one-act play) and Alison Wood (music and lyrics). It's a story about teens trying to navigate the night and their fears and dreams as they search for connection.


Practical Details

Running Time: 80 minutes

Cast Breakdown: 4 males, 4 females (with multiple casting) for professional productions or others seeking a small cast. For high schools, youth theatres, colleges or other groups interested in a larger ensemble, the cast size can easily be as large as 30 or more by having each actor play only one role and by taking advantage of the opportunities that exist in the script to use a chorus. All roles are meant to be played by teens, or actors capable of playing teens.

Technical and Musical Requirements: The show requires very minimal set or other technical elements beyond what's needed for the music. Musically, it's written for a four-piece band: piano/keyboard, guitar, bass and drums.

Best Suited for professional and amateur theatre companies, high schools, youth theatres and colleges.
Synopsis
What's it like to be awake when the rest of your world is asleep? Meet early morning joggers, a lonely short-wave radio DJ, a modern Romeo and Juliet, the writer of a most unusual letter, and numerous others. Through a series of songs, scenes and monologues, they'll survive lonely nights and sleepovers, discover whether the Monster Under the Bed is real and maybe even get to answer that all-important question: "Is anybody out there?"


Listen to Audio Clips from the Show
(recorded live during its first reading - go to the Produce the Play page to hear the entire show from the Cambridge-Isanti cast!)

4 A.M. Again

Secrets

Escape Myself

People Say / No One But You

Something So Small (reprise)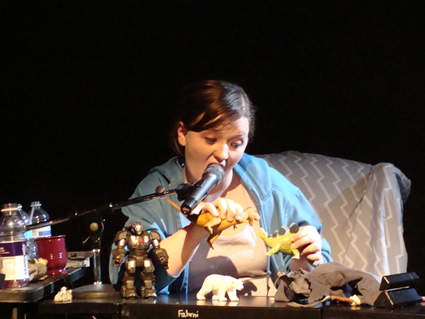 Order a Perusal Copy or Performance Rights

4 A.M. is licensed by YouthPLAYS, home of the best plays and musicals for young actors and audiences. We are actively seeking a professional world premiere. Visit the YouthPLAYS website to read an excerpt, order a perusal copy and inquire about performance rights.